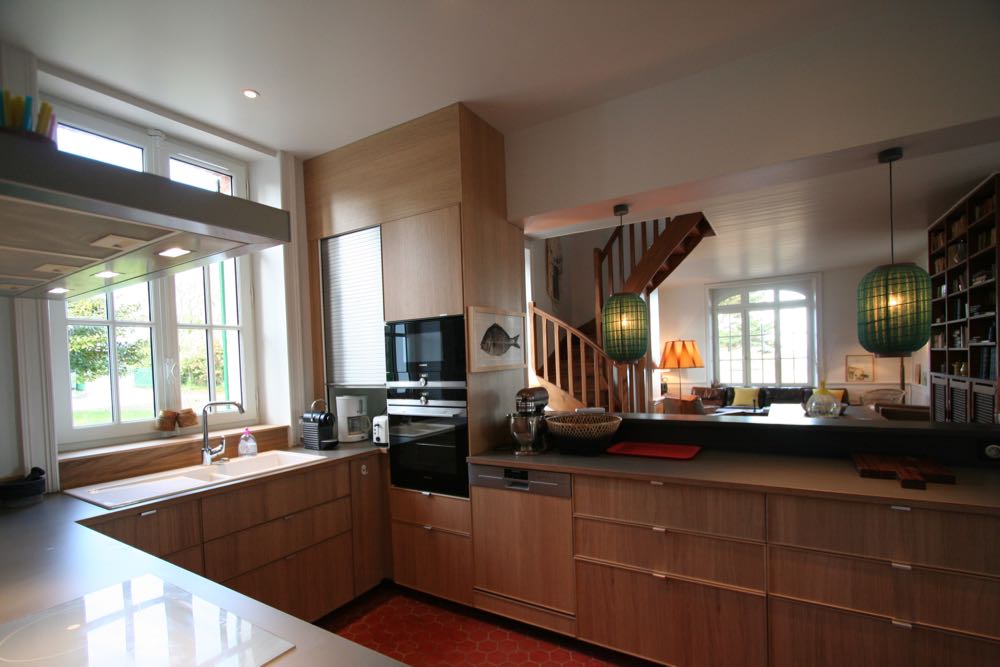 In the kitchen ...
Completely redesigned in March 2016, the kitchen houses top of the range equipment made available to the most demanding of cooks :
Large Appliances
Siemens Oven iQ500 HB75BC553F
Siemens Microwave oven iQ700 BF634LGS1
Siemens Induction Hob EH679MN27
Siemens Hood LC97BC532
Siemens dishwasher iQ500 SN56N597EU
2 large refrigerators with freezer compartment with drawers (the 2nd is in the shed)
Small appliances
4.3L KitchenAid Tilt head mixer 5K45SS
KRUPS Citrus Press ZX7000
KitchenAid Blender 5KSB1585EAC
Hand blender
Toaster
Raclette
Fondue
Deep fryer
Scales
Nespresso coffee maker (remember to bring your capsules !)
Standard coffee maker
And for outdoor cooking ...

A plancha, 3 gas burners, ENO MANIA 75.
2 bottles of 13kg propane gas is at your disposal.
Outdoor lighting is of course provided, to complement the long summer evenings ...
Internet
At La Brise, you are offered free internet access via Wi-Fi in every room and also across the whole of the property.
The access code will be sent to you upon arrival.
The upstairs office area is equipped with a Mac and a printer...
Linen and maintenance
Upon your arrival, all beds will be freshly made with personal towels available in the bedrooms (and beach towels for the happy holidaymakers of summer).
To carry out your personal clothes washing, the house is of course equipped with a washing machine, a tumble dryer (including washing products), a table and an iron.
Also available are 2 large tablecloths (ample to cover the two large, 3 meter long tables) and dish towels.
Entertainment and games
Do not come saddled down with games ! We have plenty of games for kids and adults.
For outdoors and the beach :
8 bikes of all sizes with combination padlocks
1 game of Pétanque
1 set of darts
1 game of badminton with net, rackets and shuttlecocks
1 ping pong table with bats and balls
1 game of Molky
1 Frisbee
5 Bodyboards
1 soccer ball, 1 volleyball, 1 whistling ball
Child beach kit (buckets, spades, ...)
3 landing nets for net fishing
3 pairs children's' water wings
7 'shorty' wet suits (4 years to XL)
Shoes for rock walking, ...
For the interior :
1 TV
1 PS4 game console with games
1 MAC computer with connected printer
1 set of cards
1 set of Tarot
1 game of Scrabble
1 game of Monopoly
1 chess game
1 game of Cluedo
1 Backgammon set
1 game of Master Mind
1 game of Jungle Speed
1 Uno
1 game of Trivial Pursuit
1 game of Labyrinth
1 set of Happy Families
1 Mille Bornes game
Bedding and furniture
In the bedrooms ...
For your comfort, La brise has recently been refurbished with new bedding.
Each room is furnished with a new double bed with brand quality mattress and under-mattress.
The configuration of the rooms is as follows :
Bedroom 1 Ground floor : large double bed (180x200cm)
Bedroom 2 Ground floor (garden) : 2 x 2 bunk beds (90x190cm)
Bedroom 3 (LIERRE) : large double bed (160x200cm)
Bedroom 4 (THE NEST) : large double bed (160x200cm)
Bedroom 5 (Noirmoutier) : large double bed (160x200cm)
Bedroom 6 (The Yellow Bedroom) : large double bed (160x200cm)
For young children ;
we offer 2 travel cots with comfortable mattresses 120x60cm, and fitted sheets. A high chair for meals and a baby bath.
In the living room ...
A large 3 metre long oak table flanked with benches and armchairs to welcome everyone to the table in a convivial spirit.
A sitting area with fireplace and beautiful sea views is equipped with a large modular sofa and chairs heathered by Madame.
No TV in the living room so as not to detract from the ambience ! For the followers of the small screen it is in the Santorin bedroom with an Orange subscription and all the Channels (and with a PS4 games console, just for the children of course).
In the garden
A large teak table facing the ocean with chairs and armchairs for everyone, 1 set of deckchairs and benches, coffee tables, 3 benches, 2 sun loungers and 2 large parasols.
HIFI
In the living room library area...
A small hi-fi with radio and CD player with a nice collection of classical music / Jazz on CD
A MARSCHALL ACTON Bluetooth speaker for connecting smartphones & tablets.
HEATING
The house central heating is available throughout the whole year and is of course included in the price of the rental.
It is turned on from October to April and is regulated by a room thermostat situated in the living room which controls a-state-of-the-art Saunier Duval ISOMAX Condens boiler.
You will not be cold ! To cater for those feeling a little chilled and for optimal comfort, new radiators were installed in the living room in 2016.
Each room is of course equipped with a perfectly regulated radiator.
Fireplace
Overhung by a wonderful, huge mirror which dates from the 1930s, the open fireplace is marvellous for enlivening the winter evenings. It actually makes winter worthwhile !
Dry wood is available in the shed.