The principal bedroom
This is the largest room in the house.
Equipped with a large bed (200 x 180 cm), it is located on the ground floor and overlooks the terrace facing the sea. There is direct exterior access through the French windows allowing one to take in the expanse of ocean !
With its very pretty private bathroom equipped with WC, you will have the benefit of a great sea view while taking a shower in this beautiful and vast Italian style design ...
A large closet and chest of drawers provide ample storage for belongings.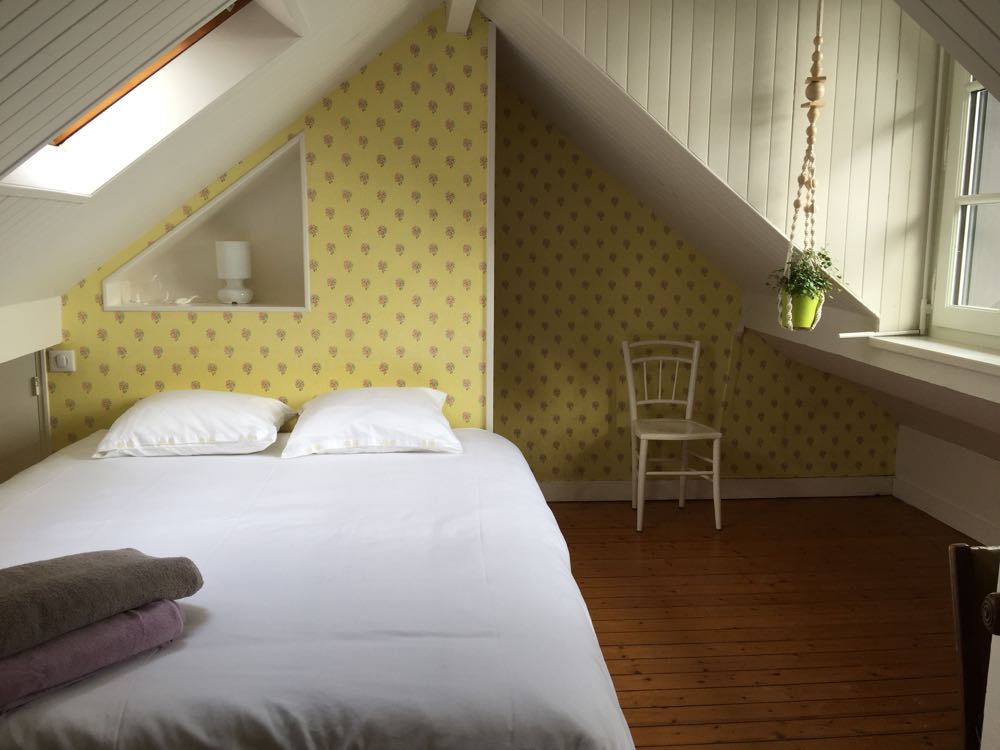 The lierre bedroom
This bedroom is located on the mezzanine at the western end of the house.
It is equipped with a WC/washroom and a storage closet with hanging space.
Its large double bed (160 x 200 cm) faces the sea thanks to the large south facing dormer window.
The nest
Certainly the most romantic !
With its porthole window pointed out towards the sea and its big double bed, this small room on the first floor is just perfect for sweethearts...
A walk in wardrobe is located on the landing ; near to a separate WC with its own washing facilities, just like on a boat !
Noirmoutier
A nice room under the eves...
It is cosy and thanks to its large dormer window offers, along with the yellow bedroom, the most beautiful views of the ocean, front of Noirmoutier island.
This is a very comfortable bedroom with its big bed and storage space, and again with direct separate access to the WC and wash room.
Descend a few steps and you will immediately enter the pretty bathroom with its Italian style shower and large bath.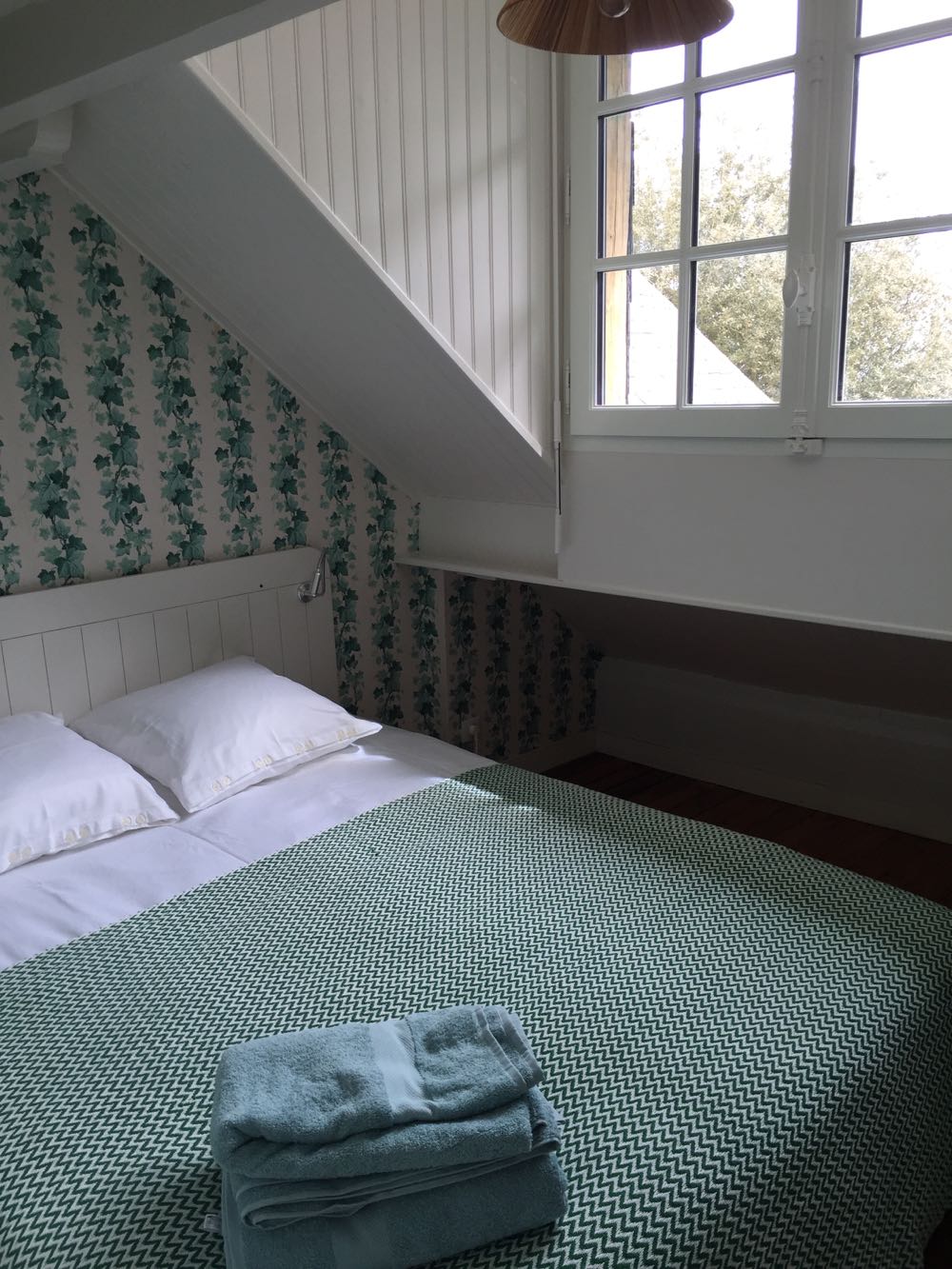 The yellow bedroom
This is often the most favoured of all the bedrooms ! And not without cause, it is the closest one to the sea.
There will be no need to spell it out, nestled up here among the hundred-year-old pines that rest on the cliff top, you can clearly hear the ocean, then you just need to close your eyes and let yourself sway, to hear the surge of the waves and their surf towards high tide...
Better still it is also equipped with a washbasin.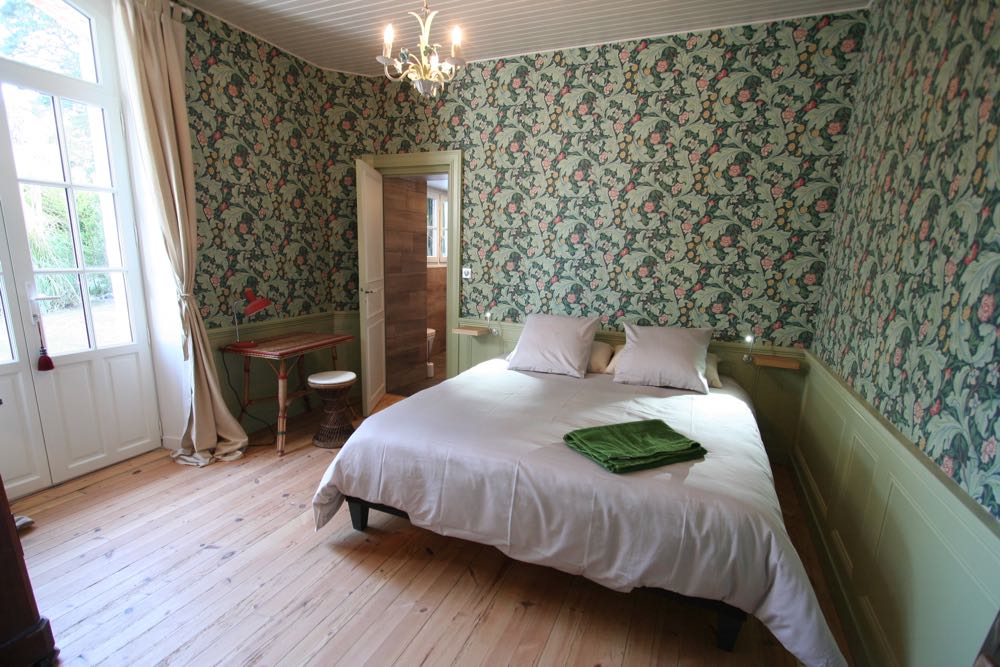 The garden bedroom
It is a room where little cousins can bed down together because it's their holiday too !
Although not very big it is nevertheless pleasant with its direct access onto the garden and it too is located near to the bathroom and WC.
It is equipped with 4 bunk beds of nice size that will suit both children and adults (90 x 190 cm). A walk-in wardrobe area is provided on its landing.